Make Mozzarella Cheese at Home
Make mozzarella cheese at home!  It is easy to make Mozzarella Cheese with this recipe and video, takes about an hour and is so delicious! Below are easy instructions on how to make mozzarella cheese at home courtesy of Mary Jane Toth. This video is based on Mary Jane's book, A Cheesemaker's Journey.  If you're ready to make mozzarella cheese but don't have the stuff,  Hoegger Supply has a great Mozzarella Cheese Kit with everything you need to get started.  Just add milk!
.
Although, non-homogenized milk works best to make Mozzarella Cheese, you can still make fantastic Mozzarella Cheese with whole milk from the grocery store.  Enjoy!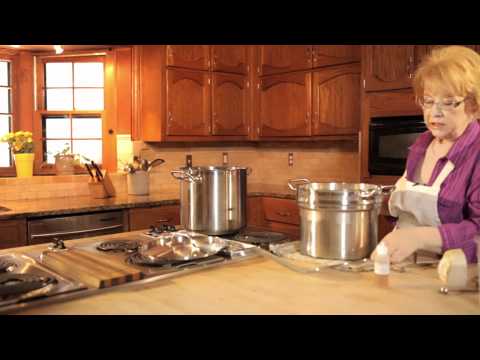 Easy Mozzarella Recipe
Supplies:
Stainless pot to hold 1 gallon ( Cheese Vat is Best)
Long knife to cut the curds
Large Spoon
Ingredients:
Milk 1 gallon
Rennet, liquid ¼ teaspoon or Tablet 1/8 teaspoon
Water cool ½ cup (divided in half)
Directions
Put the cool milk into a stainless pot.  Dissolve the Citric Acid into ¼ cup of cool water.  Stir into the cool milk.  Bring the temperature of the milk to 88 degrees and remove from heat.  Mix the rennet into ¼ cup cool water and stir into the milk for about 10 seconds.
Allow the milk to set for 15 minutes to coagulate.  When it has coagulated enough it should be firm and when you dip your finger into the curds it will break cleanly over your finger.  Cut into 1-inch cubes and let rest for 10 minutes.
Place the pot of curds into a sink of hot water and slowly bring the temperature of the curds to 108 degrees.  Hold at 108 degrees for 35 minutes.  Stir every 5-10 minutes to keep the curds from matting together.  Drain the curds into a colander for 15 minutes.
Once the curds have drained you will need to heat treat them.  This can be achieved using a microwave or hot water.  Directions for both methods are below.  I personally use the Microwave to make mozzarella and find it less messy.
Microwave Method:
Break a cupful of curds into a microwave safe plate or bowl.  Sprinkle ½ teaspoon of kosher or cheese salt over the curds and heat in the microwave for 50 seconds.
Remove from microwave and work with a spoon to mix the curds together.
Place back in the microwave and heat again for another 25 seconds.  Shape into a ball or place in a container you want the cheese to take the shape of such as a round or square dish.  If using a container allow the cheese to cool and cover and refrigerate.  If you want to hold a ball shape the cheese can be placed into ice water to cool quickly.  Wrap and refrigerate.  Cheese will keep for about 2 weeks in the refrigerator.
Hot Water Method:
Cut the cheese curds into 1-inch pieces and place into a large stainless bowl.   Heat enough hot water to cover the curds to 155 degrees.  Pour the hot water over the curds and quickly use two large wooden or stainless spoons to work and stretch the curds until you can shape them into a ball.  Once shaped, place into a cold brine solution for 30 minutes.  This will cool the cheese quickly and hold the shape and salt it, all at the same time.  After 30 minutes remove from the cool water, wrap and refrigerate.  Cheese will keep for about 2 weeks.
Now that you know how to make mozzarella cheese, Hoegger Supply has a great Mozzarella Cheese Kit with everything you need to get started.  Just add milk!
Courtesy of Mary Jane Toth – Click here to learn more about Mary Jane Toth's new book, A Cheese Makers Journey: a practical guide to beginning and improving cheese making at home.